Watermeter - automatic water ballast meter
The Automatic water ballast meter is designed to make water filling simple. No more guesswork about how much water is in your wings! No more wasted water spilling out because you forgot to turn the hose or pump off when the wings were full! Using… show more
From 245,- €
The Automatic water ballast meter is designed to make water filling simple. No more guesswork about how much water is in your wings! No more wasted water spilling out because you forgot to turn the hose or pump off when the wings were full! Using the Watermeter is really simple. Just connect to mains or water pump, set the number of litres you want to fill and press start. You will get an accurately metered dose of water, and then the water meter closes the valve and stops the pump automatically when you reach the water level you need, leaving you to spend time on other glider preparation.
Here is a short list of features and benefits which your new water ballast meter brings to you:
Exact and quick setting of required amount of water ballast
Easy recall of last few inserted values
You can connect the device to water main supply or to a small external water pump
The connected external water pump is being switched ON and OFF automatically when required amount is reached
Easy calibration for accurate measuring even when using another measuring units than litres
Water ballast meter can be customized to fit your preferred method of filling, using accessory kits available from IMI
You can get the water-meter as a single unit however it is better to acquire a whole set which contains all the pieces you need to get the system work.
| | |
| --- | --- |
| Dimensions | 200 x 132 x 66 mm |
| Weight | 0,95 kg |
| Input voltage | 8 - 16V DC |
| Quiescent power consumption | 1 W |
| Maximum power consumption | 7 W |
| Water pump switch | max 24V / 10A DC – protected by fuse |
| Minimum water pressure | 50 kPa (0.5 bar, 7.25 psi) |
| Maximum water pressure | 600 kPa (6 bar, 87 psi) |
| Minimum flow | 3 liters/min |
| Maximum flow | 25 liters/min |
| Measurement accuracy | +/- 3% |
Sets
There are two types of set which fully satisfy the most common arrangements. You can add some other stuff on top of the set. For example the wing holder which makes the filling even more convenient especially for gliders with filling holes on the top of the wing.
And if you think you need to add or remove something from the set do not hesitate to ask us.
Set WMS_V - Hose outlet from water mains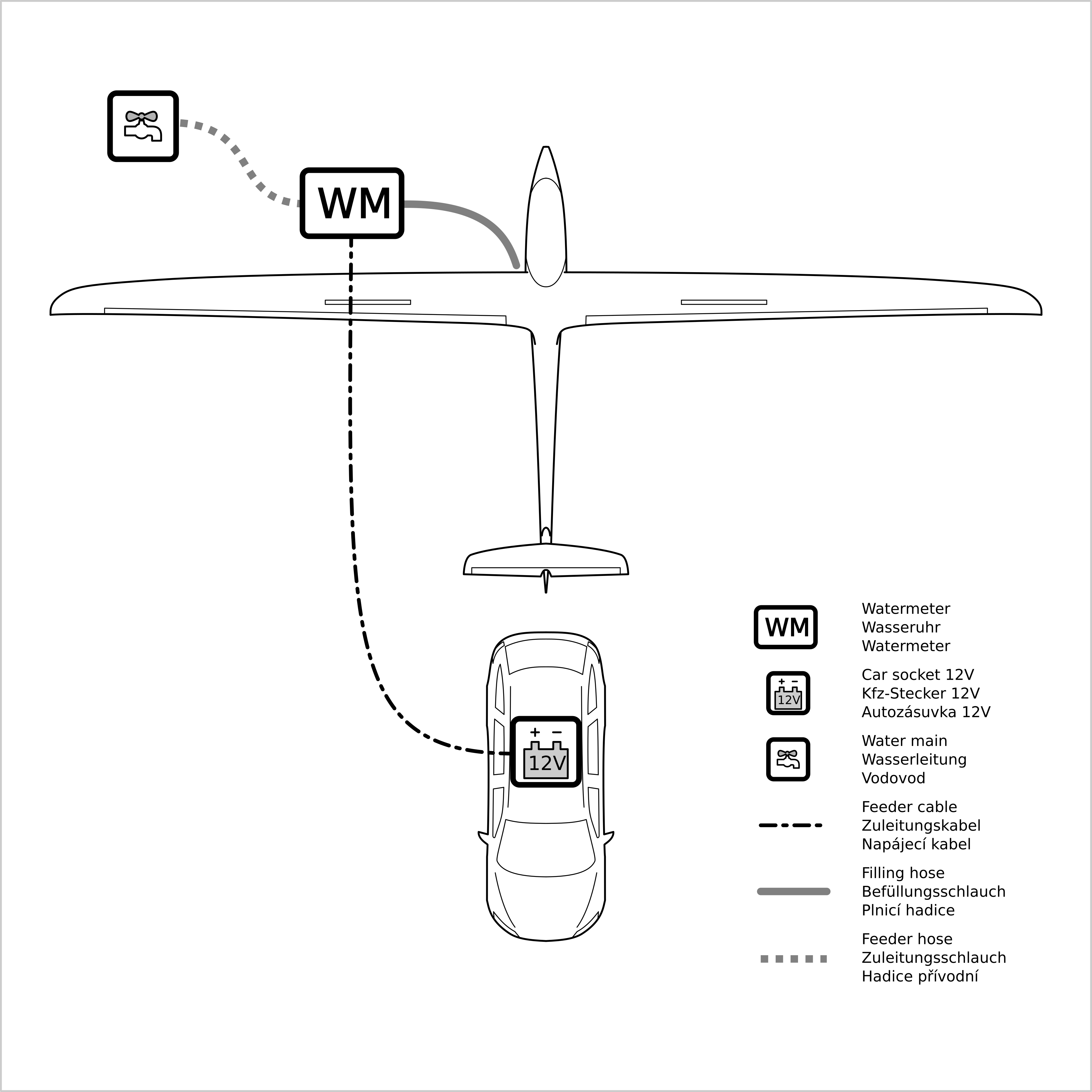 This set is dedicated for feeding water from water mains. The water is fed from a feeder hose (not included in the package) to the Watermeter. You can take the unit with you near to the filling point and the 4 meters long filling hose in this set is enough to reach any filling hole. The 12 meters long feeder cable provides you a good working range so you can easily leave your car behind the glider while the filling is ongoing.
In case you don't need such a long hose simply cut it down to any length.

The set contains:
Watermeter
Feeder-cable 12m
Hose 4m
Hose connector with Control valve
Hose connector
2pcs Tap connector ½"
Set WMS_C - Hose outlet with submersible pump
This set is intended to be choice of all the people who are using barrels rather than water mains. The barrels are supposed to be placed in the car or somewhere near by so 4 meter long feeder cable is provided. Part of the delivery is powerful submersible water pump with all the relevant attachements so the only thing you need to do is to plug the connector in the Watermeter and put the pump in the barrel. For a good reach a 12 meters long filling hose is provided.
The set contains:
Watermeter
Feeder-cable 4m
Water pump with hose and cable
Hose 12m
2pcs Hose connector
2pcs Tap connector ½"
Accessories

:

Wing holder
The wing holder sticks the Watermeter on a glossy surface with four small suction-cups. It is ideal for gliders with filling holes on the top of the wing but it is really convenient for all the other situations where the Watermeter is placed near by the glider.
Apart of the Wing holder there are many other parts and bits for the Watermeter so you can simply create system which suits you the most.
Water Pump alone
This small and powerful submersible water-pump is able to deliver maximum flow of 19 litres per minute. It is the pump only – with bare cable and without any hose
---
Water Pump with fitting
This is exactly the same powerful submersible pump as above but it is provided with 3meters long cable and hose. (It does not have any hose-connector – sold separately if needed)
---
Feeder cable
It is a Plug-and-Play feeder cable for the Watermeter available in two sizes – 4 or 12 meters.
---
Filling hose
Crystal-clear hose with 12mm/17mm inner/outer diameter – we will cut you the length you need.
---
Tap and hose connector
Tap connector ½ inch in combination with the click-on hose connector provides simple and reliable hose attachment.
---
Hose connector with control valve
​This connector is usually put in place when the water main is used as a water source. The valve allows you to adjust the water flow easily while you are standing by the Watermeter so you don't need to walk to the main tap.


You may be interested